What is the 1K thing about?
I believe that you have the ability to change the way we live in the world.  You just need to start. I've helped individuals and corporations effect change, and I know that with only a few simple steps, you can begin living in the future of your dreams.
I am changing the world, 1 kilometre at a time. If you wait, my blog will probably circle 'round back to talk about electric vehicles, moving away from fossil fuels, solar energy and all my favourite old hobby horses eventually. For now, the picture of the Tesla Model Y in the lovely galaxy print on the right is all you're getting. If you're impatient, just ask me a question at change@kirstenoulton.com.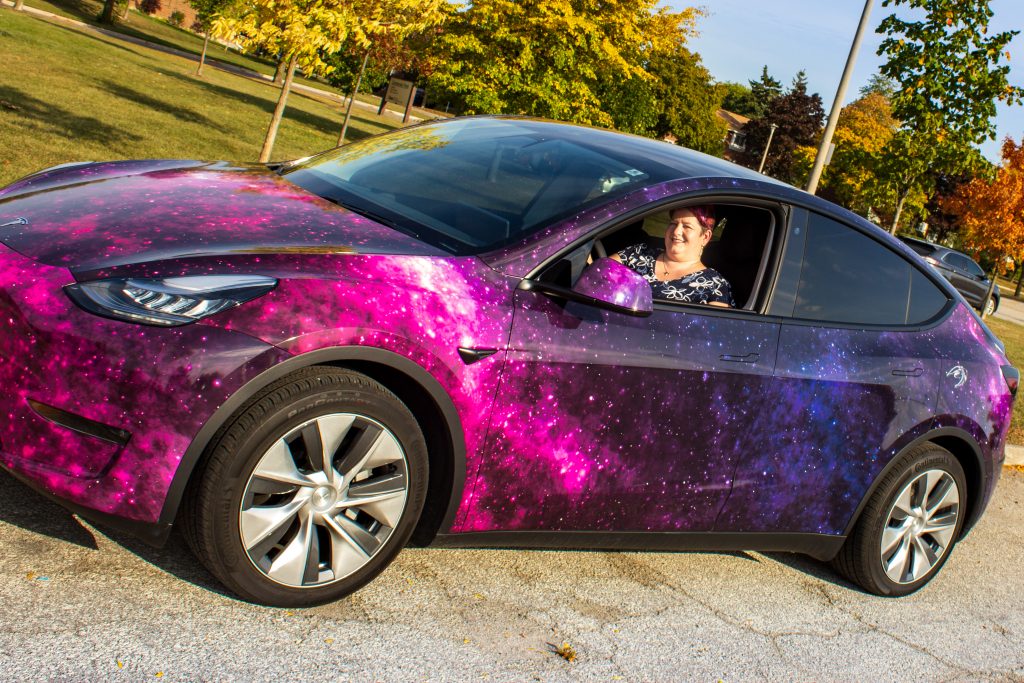 What kind of car is that?
Tesla Model Y
Range: 524 km (326 miles)
Recharge: 260 (162 miles) in 15 minutes at a Supercharger
Accelerate: from zero to 60 mph in as little as 3.5 seconds
What is the blog about?
This site is currently a place where I collect personal odds and ends in my blog. For branding purposes, it would have been great if I could have picked a central, unifying theme for the blog. It would have been great if I'd stuck with the 1K theme and run with it (pardon the pun). In the last two years, the blog mostly stayed on topic.
2021 has come around, and it's time for a change. The blog is officially a rabbit's warren of whatever topic my brain seized on that day. I am just as likely to write about the Gutenberg printing press as the heyday of shock rock, or gender issues.