I was listening to a podcast with Kevin Smith today, and someone in the audience asked him a question during the Q&A section of the show. It was a great question…
What would have been on the mix tape when Yondu abducted you?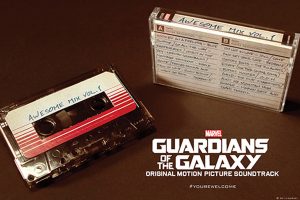 So, for the non-geek readers, that question refers to the first Guardians of the Galaxy movie. One of the heroes, Peter Quill, is taken from planet Earth by a blue-skinned alien called Yondu. He was 8 years old when he was taken, and one of his most prized possessions was a mix tape that his mother had made for him.
If you don't know what a mix tape is, it's like a Spotify playlist, only it required a lot more effort to make at the time.
So, Kevin Smith rattled off two songs, then ground to a halt, realizing that he was naming songs he would have picked when he was eight, not ones his mother would have. The second playlist he assembled featured Barry Manilow prominently.
This piqued my interest, so I sat down and tried to work out what my mom would have put on the cassette. I am guessing it probably would have featured songs from the last five years of radio. I am guessing that my future as Star Lord would have been slightly less cool than the one seeded by Peter Quill's mom. And I would have won even fewer dance battles.
Here's what I came up with…
Lindsay's Awesome Mix Vol. 1
This is one of the most fun experiments I have done in ages. What would your mom's mix tape have held for you? Try it!