The Conqueror Virtual Challenge came up with the perfect bait to tempt my husband into joining me for a challenge: they have a Lord of the Rings themed challenge! Pursued by the Nazgûl, Frodo Baggins and Samwise Gamgee flee Hobbiton bearing the One Ring, heading to the village of Bree, where Gandalf awaits. We get to follow Frodo and Sam's path down the 233 kilometre  (145 mile) route crossing The Shire and going farther from home than we've ever been (well, at least in terms of fantasy walking trips).
Michael and I have formed our own little Fellowship to tackle this challenge together. I guess that makes us Frodo and Sam. I'd rather be Gimli, but if that was the case, I'd never make it to Mordor and I wouldn't get to collect all five medals.
Collect all Five Medals
Yup, you heard me right. This is actually a series of challenges, not just single jaunt for Michael and I. The Shire Virtual Challenge is part of the epic The Lord of the Rings Virtual Challenge Series. The quest is to bring the One Ring to Mordor and destroy it in the fires of Mount Doom. Each of the five Virtual Challenges rewards us with an amazing medal, based on the route traveled by Frodo and Sam. We can only arrive at Mount Doom by having the courage to complete each challenge in sequential order. Only those with the determination and bravery to see the journey through to its end will be able to claim the final medal. Once we complete the previous challenge, we'll be able to start the next one.
The five challenges follow the path of the Ring-bearer from The Shire all the way to the fire of Mount Doom, defying Sauron's growing power. In the envelope found on the first medal, The Shire, we'll find the One Ring, and by the end, we must destroy it for the sake of all in Middle-earth. How? "The task was appointed to you. And if you do not find a way, no one will".
Merit Brewing, our proxy for The Prancing Pony
The hobbits end the first stage of their journey at Bree, spending the night at The Prancing Pony, where Pippin learned for the first time that when drinking beer with humans, beer comes in pints. Last night, Michael and I logged the last few kilometres needed for the challenge on our way to dinner at Merit Brewing in Hamilton.
I had a Mallard Dark, described as a "refreshingly dry-drinking delight is our take on a classic schwarzbier, boasting all the gentle roast, light body and a hint of sweetness wrapped in a simple dark malt character. So easy drinking it's like lager off a duck's back!" Michael tried the South of Nowhere which is an "Imperial Stout with Coffee & Peppers is a three-way culinary/brewing collaboration with Steeltown Garage and Latin Foods. Aged on carefully selected ingredients including Steeltown Garage Espresso beans, Bourbon extracted vanilla, Mexican Flat bark cinnamon, Cacao powder Gaujillo chillies and Pasilla Peppers, this mind bender of a beer drinks with flavours of dry Chocolate and spice with a slight heat as fresh coffee and vanilla notes dance through this beer for a one of a kind experience!" Personally, I would have described his beer as very alcoholic chocolate cake in a glass.
The missed opportunity was a beer called Second Breakfast, a Blueberry Buttermilk Pancake Sour (7.1% abv) described as "Breakfast just got so good, you're heading for seconds! All the fruity, rich fun of classic blueberry buttermilk pancakes jumps out of your glass with a popping tart punch!" There just wasn't room for any more, because the meal was INCREDIBLE. We shared two sausages (Cubano and Steak & Stout) and an order of the best mac and cheese with bacon I have had in my life. The food and setting may have been simple, but it was absolutely clear that the kitchen cared about quality ingredients and loved their work.
The absolute best thing about this brewery is that they are not near our place, or we'd both be working our way through all seven traditional hobbit meals a day, and if even one of them was at Merit Brewing a day, we'd be fatter than our ponies before the end of the week.
Breakfast – 7 a.m.
Second Breakfast – 9 a.m.
Elevenses – 11 a.m.
Luncheon – 1 p.m.
Afternoon Tea – 3 p.m.
Dinner – 6 p.m.
Supper – 9 p.m.
If you want a giggle, visit this site to see Hobbit Day: A Meal Plan for Middle-Earth.
Meme
This challenge has spawned countless memes, but the most prominent one is the obvious one… "One does not simply walk into Mordor," Boromir says. "Its black gates are guarded by more than just orcs. There is evil there that does not sleep. The great eye is ever watchful."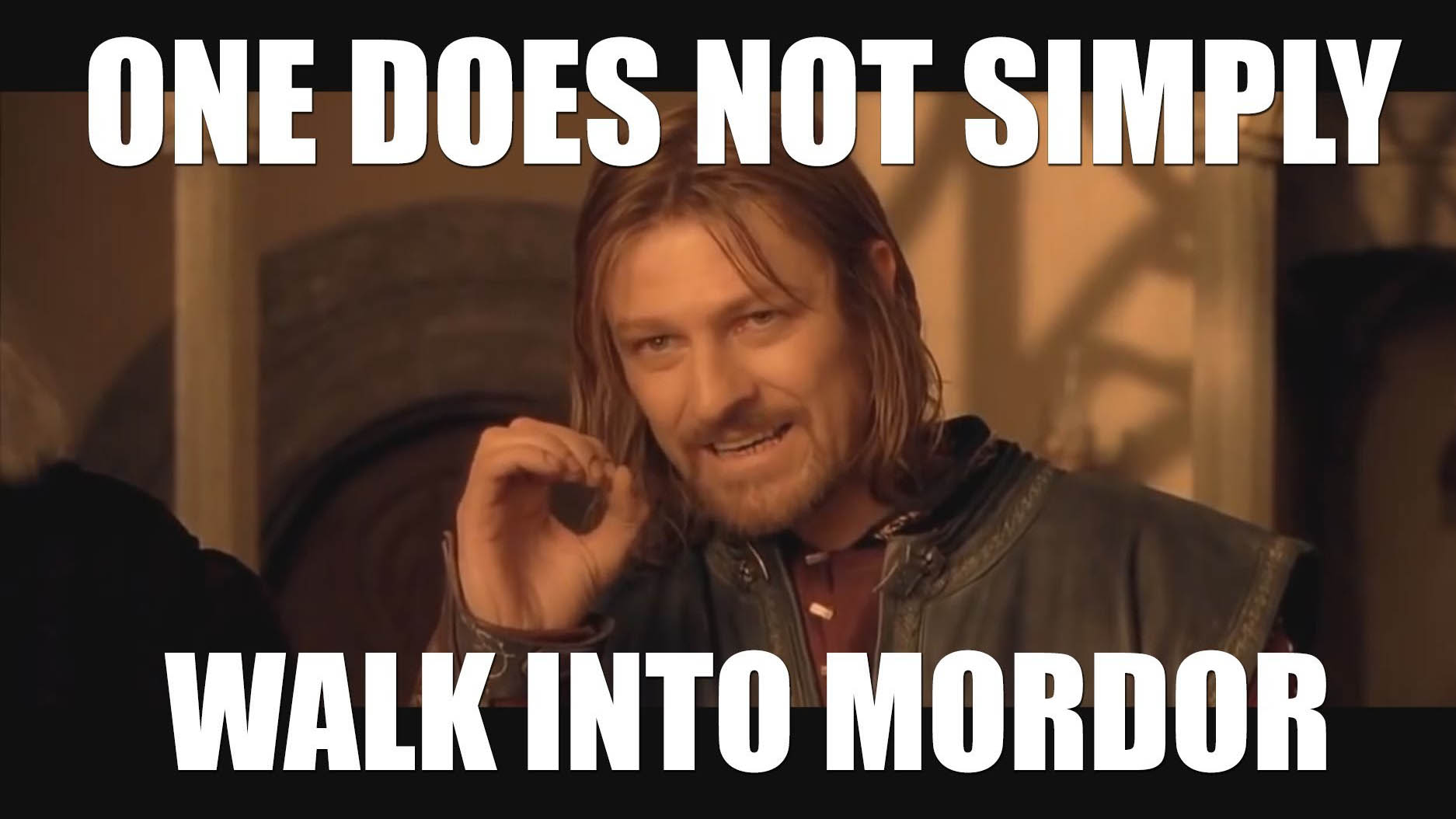 Isn't the medal gorgeous?
Postcards