Found Object Sculpture
This post was sparked by a piece of art I stumbled upon in yet another random web search. I saw a picture of a snail sculpture of found objects and was transported instantly to my childhood. You see… all snails are called James. Before we explain that, why don't you take a moment to mosey on over to the website of Artūras Tamašauskas (http://artistartas.com) and enjoy his art. Also, make sure you take the time to stop and say his name out loud, it's absolutely fabulous.
Artūras scours scrap yards and converts the objects he finds into art. His snail doesn't have a name, but to me, the snail is clearly called James, because all snails are called James. Hang on, I'm getting to that part. This James is assembled of a car turbine, teapot, lamp parts, a motorcycle engine cover, bits of a child's scooter, and a fitting off of a hookah (which sends my mind off in a whole different direction, chasing the image of a caterpillar smoking a hookah).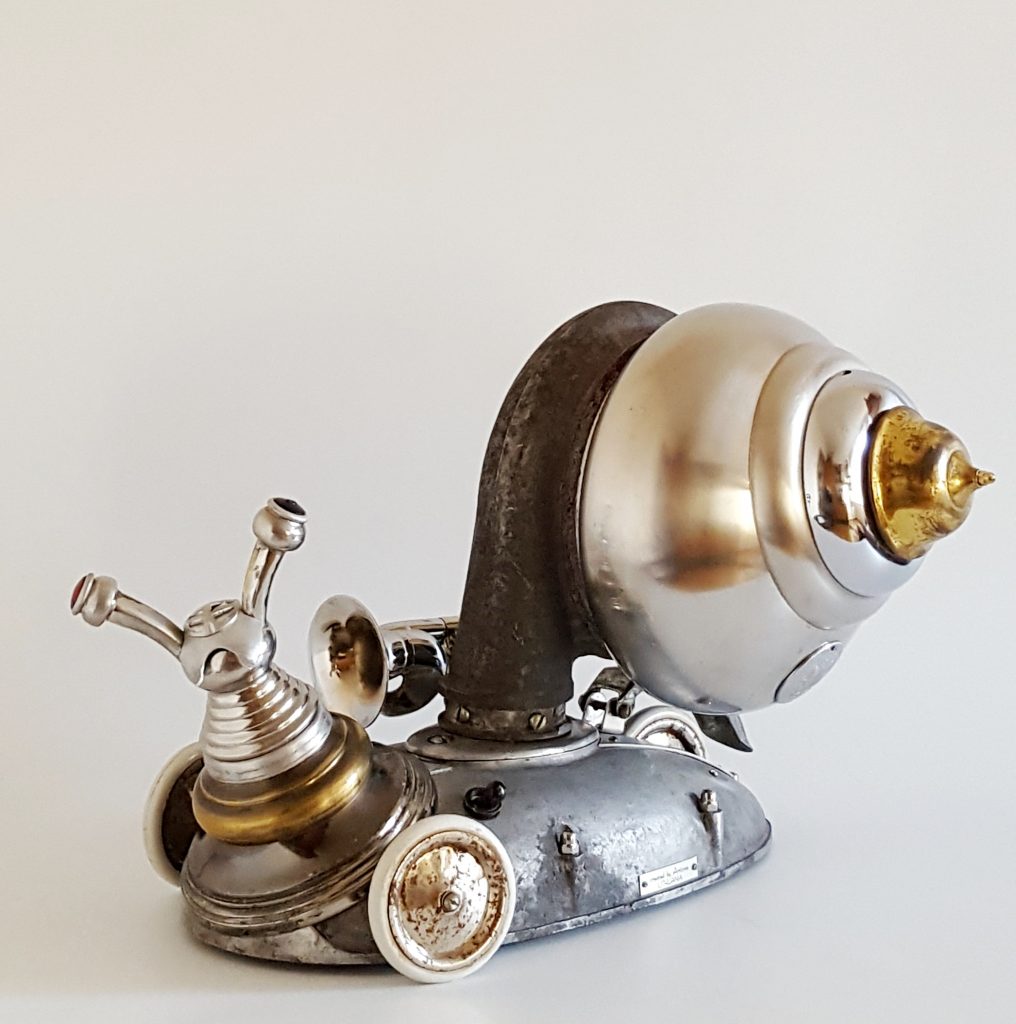 The first book I remember memorizing was a collection of poems by Alan Alexander (A.A.) Milne (1882 – 1956). Milne was was an English author, best known for his books about the teddy bear Winnie-the-Pooh. When We Were Very Young is a best-selling book of poetry first published in 1924 and illustrated by E. H. Shepard.
My mother liked to recite poetry and song lyrics to me as a child. Children's stuff, folk songs, popular music, French songs (les claques chromé and something about Jean Belliveau) and terrifying rhymes that made Grimm's Fairytales seem positively cheerful. I profoundly hope that "Mary Stepped On The Baby's Face" was not something my mother wrote herself. One day, I hope to find someone who can help me connect those memories to the original source material so I can figure out where they came from.
In the section below where I go through the greatest hits out of When We Were Very Young, I've provided links to each of these poems by A. A. Milne. Follow the links. Read the poems. If you're going to follow me as I go on this meandering journey, you need the backstory.
The Four Friends
The Four Friends is why all snails are called James. When you read this poem, you need to act the whole thing out. With voices. I don't care if you're an adult with no child in sight. Just do it, already. It's good for you.
James is the quiet, scene stealing star of this show. "James was only a snail," indeed! There's a tiny Swarovski snail in my home that I inherited from my Mom. I don't know when she bought it, but it was some time after I moved out. She didn't start collecting them until she moved to Ontario. After she died, I found it hiding on a shelf, and I know, beyond a shadow of a doubt, that his name was James and that she recited poetry to him when no one was around. One of his antennae is broken, and I need to crazy-glue it back on, but I'm afraid of mucking it up. Or glueing my fingers together. Possibly both.
Disobedience
Here is my second James. This one is not a snail. I still recite
Disobedience
to steady myself. The repetition and rhythm of it is very soothing. Drop what I am doing, put on comfortable shoes, and start walking. The very best part is the last verse, which Mom did at a whisper.
(Now then, very softly)
J.J.
M.M.
W.G.Du P.
Took great
C/O his M*****
Though he was only 3.
J.J. said to his M*****
"M*****," he said, said he:
"You-must-never-go-down-to-the-end-of-the-town-
if-you-don't-go-down-with-ME!"
I understood JJ MM, and aspired one day to do almost as well at taking care of my family. Failing that, I would be entirely satisfied to write a tiny book that was as well-loved and well-worn as that book of poetry. Whichever.
See that format up there? That is pretty much what the one cue card I was allowed any public speaking competition looked like. I seem to remember taking a series of buses to a school in TMR (Town of Mount Royal if you weren't raised in Montreal) to do a talk on the transformative role of makeup in rock music. Think Kiss, Alice Cooper, Twisted Sister, and Ziggy Stardust. Delivered, of course, in Gene Simmons' facepaint. In my pocket was a single cue card with a collection of initials and abbreviations that pretty much looked like the quote above. There was a card like that for most speeches I delivered, and by the time I was in university, my study notes looked pretty much like that as well.
Buckingham Palace
Don't ask me where it came from, but I sing this poem (Buckingham Palace). Mom sang it, so I sing it, too. I have no idea where the melody came from… for all I know, Mom made it up.
The Queen's Guard are responsible for guarding Buckingham Palace and St. James's Palace in London. They usually consist of Foot Guards wearing full-dress uniform of red tunics and bearskin hats. I can see them, clear as day, when I close my eyes. "Says Alice" will occasionally pop up in my speech as a coda, when I have said something declarative. A wee verbal tick, and I didn't know I still did it, until someone asked me if I was quoting something out of Alice in Wonderland at work. Nope. A. A. Milne strikes again.
Forgiven
I was prone to bringing home wildlife as a child. Forgiven was a poem made for a child like me, telling the story of a boy who lost his beetle as a result of the carelessness of his Nanny. This theme continues in Missing.
Spiders, beetles, snakes, turtles and more followed me home in pockets, boxes, and Tupperware. If I could catch it, it was eventually coming home and I was going to try to make a pet of it, much to the horror of those around me me. Once, I brought a stupendously pissed-off stingray to Grammie's cottage in a bucket. She found it flailing around, trying to jab someone with its stinger, because stingrays do not belong in buckets, even if they are very, very pretty. Grammie put it back in the ocean and explained that stingrays don't make great pets if you don't take them for long walks in the ocean.
"And Nanny's very sorry too for you-know-what-she-did."
Rice Pudding
Rice Pudding is the story of any parent who has found themselves at the dinner table with a child who simply won't each what is put in front of them. While I enjoyed the poem, I never once understood it, for I loved rice pudding, with raisins, please, and extra nutmeg.
Sneezles
Like many households of the time, my brother and I took turns getting over assorted illnesses. Flu, colds, chicken pox, mumps, and scarlet fever. It's handy to have rhymes for those times, and Sneezles was the go-to solution. I have spent all of 2020 trying very hard not to think of Sneezles as COVID-19 spread round the globe.
The Dormouse and the Doctor
When I moved to Acton, Ontario, I added some plants to the front garden: delphiniums (blue) and geraniums (red). This was a silent tribute to The Dormouse and the Doctor. The delphiniums survived about five years, the geraniums only lasted one. This was my first hint that A. A. Milne might not have been all-knowing. Why did he pair up an annual and a perennial like that? I'm supposed to re-plant one every year, just to keep the combination going? Argh.
Also, frustratingly, there are no dormice in Canada. None.
Vespers
Where to end this rambling post? Vespers, of course. My mother sung this to me as I fell asleep. I'm a Humanist now, but some nights still call for something to wrap them up, so in lieu of Vespers, I practice gratitude, thinking of all the things that I have to be thankful for, and then trying to plan at least one positive step forward for the next day before I fall asleep.
---
If you've made it this far, I hope you've enjoyed the journey through some of A. A. Milne's poems. If I'm really lucky, at least one of them tickled your fancy enough to lodge in your brain. Everyone should have a bit of poetry rattling around up there.