Working from home has become increasingly problematic for my health, and many others under these COVID-19 lockdown conditions. There aren't enough steps between the door to my condo and the furthest point you can go to even remotely stretch out my legs. As the cold weather set in, the frequency and duration of my walks declined significantly. At one point in early December, I realized I had passed 5 consecutive days where I hadn't even left the unit (not even going as far as the garbage chute or the mailbox). That's great news if you are measuring my ability to abide by a stay-at-home order but worse news if I want to live long enough to enjoy my retirement. Houston, we have a problem.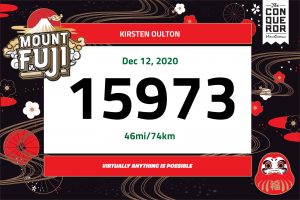 Enter My Virtual Mission and The Conqueror Virtual Challenge Series. They offer an array of challenges to convert your normal tuning, walking, bicycle ride, or swim into a S.M.A.R.T fitness goal. I can pick a distance I like, a part of the world I find pretty, a medal that I think is really pretty, or any combination of these.  I picked the Mount Fuji Virtual Challenge, which promised to take me through a breathtaking 46 mile (74 km) journey to the summit of Mount Fuji — the highest volcano in Japan. In case you're wondering, Japan and pretty medal design counted way more than the distance (only 74 km) in my selection criteria. For some reason, the idea of putting that medal around my neck seemed like a really good reason to go out for a walk. I could track all my kilometres directly into a mobile iOS app. I set a start date and target date based on my exercise type (walking), fitness level (I can type really fast), and how many other people there are in your team (just me for this one).
They tried to give me the full experience, tracking my progress across the map, and even giving me a handy street view so I could virtually explore the trail as I was "walking" along it.
I finished the challenge yesterday. It's probably going to take a while for my medal to arrive, but I am beginning the year with some small sense of achievement. Now I just need to build on that foundation. I have already signed up for four more challenges. I have already enrolled to tackle Mount Everest (clearly, I need a second mountain), Giza Pyramids, Cabot Trail, and then Conquer 2021 in that order.
What am I doing after this post? I'm going to celebrate by putting on boots and a jacket and going for a walk!
Map View
Where am I right now?
Street View
I can spin the
camera around
to enjoy the sights
as I get closer
and closer
to the summit.
Motivation 1: Yes, I do need some stinking badges!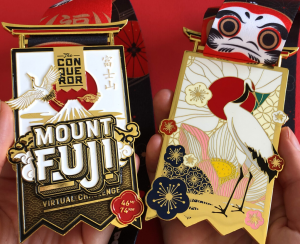 I get a shiny medal. I have no idea why this appealed to me, but I actually wanted a shiny medal. If you're a Canadian of a certain age, you might remember the Canada fitness award badges. Let's just say that my collection each year featured Bronze (which I interpret as: "Kirsten finished the activity at a level that could actually be measured according to the standard measurements") and Participaction ("Kirsten was there on the day they did the testing, but their performance was more interesting than effective").
This time, I  am going to earn a super cool medal. It's so pretty I might very well need to buy a rack and start collecting a pile of these medals to show off. I have ordered an elliptical trainer which should arrive by the end of January, so racking up some more distance for each day will be a bit easier moving forward.
The badge is gorgeous, loaded up with traditional iconography and the sacred Mount Fuji as the central piece. If you're a Facebook user, follow this link to see a little video of the medal. My biggest hesitation is that I feel like I might need to earn two medals: one to display the front and one to display the back!
Motivation 2: Plant me a tree!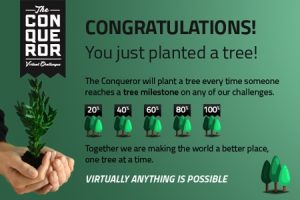 Yes, I really can be motivated by the promise of a tree planting. I consider them a healing act. Every time I completed 20% of my journey, as I passed the milestone I got a confirmation from My Virtual Mission that they would plant a real tree thanks to me. These trees help restore healthy forests in locations around the world. The company has partnered with leading forestry rehabilitation agencies to get this done so all I needed to do was focus on is smashing out as many kilometres as I could.
If I keep up the great work, in some small way my challenge (and the cumulative effect of everyone else taking this challenge with me) will make a difference in the real world.
Postcard Collection
I didn't actually get to go to Japan, but they tried to simulate the experience as best they could by giving me a set of postcards from my trek up to the top of Mount Fuji. Click on each section to see the postcard and the simulated travel blog entries they supplied (complete with some pretty cool facts).