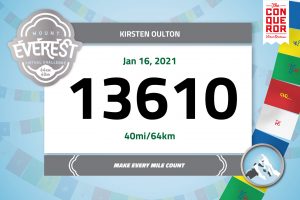 My second virtual challenge is Mount Everest. I'm continuing the mountain theme from the Mount Fuji "climb", and getting some shorter distance challenges under my belt before tackling the longer ones. This is only 64 kilometres, so it will help me build some momentum, and send a second shiny medal for my collections.
I've learned that the app will let me run challenges in parallel, but I want to experience them one at a time. Right now, I'm using just walking distances towards my total, but later on, I might consider splitting up my distances, so that the walking distance goes towards one challenge, and time on the elliptical machine goes towards a second challenge. This still avoids me double-counting my effort, but would let me dedicate a challenge to a specific type of activity. It would be super cool if I could literally swim the English Channel challenge, but that would require that I get access to a pool. The condo pool is a better equipped for introducing toddlers to water than trying to actually swim, and the gyms are closed for now… but hopefully things will change once the COVID-19 vaccines are rolled out universally. Here's hoping!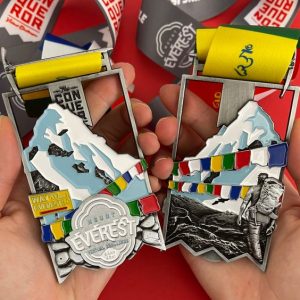 As I finish each challenge, I'll close out the day, and start the new challenge on the next day. I have my race bib for Everest, so I'm ready to go. My first day, I was so happy about closing out the Mount Fuji challenge that I combined two of my favourite walks back-to-back to get in some extra distance for the day.
If you want to try one of these virtual challenges, you can get 10% by following this link: theconqueror.events/r/KO3654.
Trips I'm not Making
I want to do a trip that worked through Nepal, Bhutan, and then maybe over to Mongolia. I could visit Taktsang Monastery, Bhutan's famous "Tiger's Nest" temple, steeped in legend and perched half a mile up on a sheer mountain cliff. Contrast that with exploring Nepal's Chitwan National Park, home to Asian elephant, one-horned rhinoceros, sloth bear, spotted deer, golden jackal and more. Then wrap it all up with some time in Mongolia, horseback riding, flying a hunting eagle, and riding a camel. I have no idea how one packs a small suitcase for what would probably be three solid weeks in varying conditions, but it sure sounds like a challenge.
In the absence of exotic trips, I have street view maps as I begin the trek up Mount Everest. I am already well-positioned with two gigantic advantages: I am expecting better weather in Ontario than the summit promises and I am permitted to cover the distance over considerably less incline. Maybe I can string up some multi-coloured flags in the condo to give a bit of atmosphere…
Gyms are Closed: Need a Plan B
As a result of the latest round of COVID-19 lockdown rules, I find myself in a place where:
Gyms are closed;
The condo gym is closed for resident access; and
It's cold enough to not want to walk (my preferred activity) outside every day.
I needed a solution. I used to own a treadmill, but the condo forbids them as the noise carries from unit to unit. My brother suggested the fix: get an elliptical. If I picked the right unit, it would be very quiet. So, I put in an order (I am not nearly the first person to invest in exercise equipment after months of restrictions, so stock was low) and by the third week of January, I had a brand-new elliptical. Progress!
It is absolutely utterly silent. I've had Michael using it with the music on (Black Sabbath) and I could just barely hear it from the next room while I was working. Problem solved. Now I just need to build up the strength in my knee enough to use it for longer stretches. Right now, the cartilege sounds like a plastic accordion being played. If I keep at it long enough, it will get better.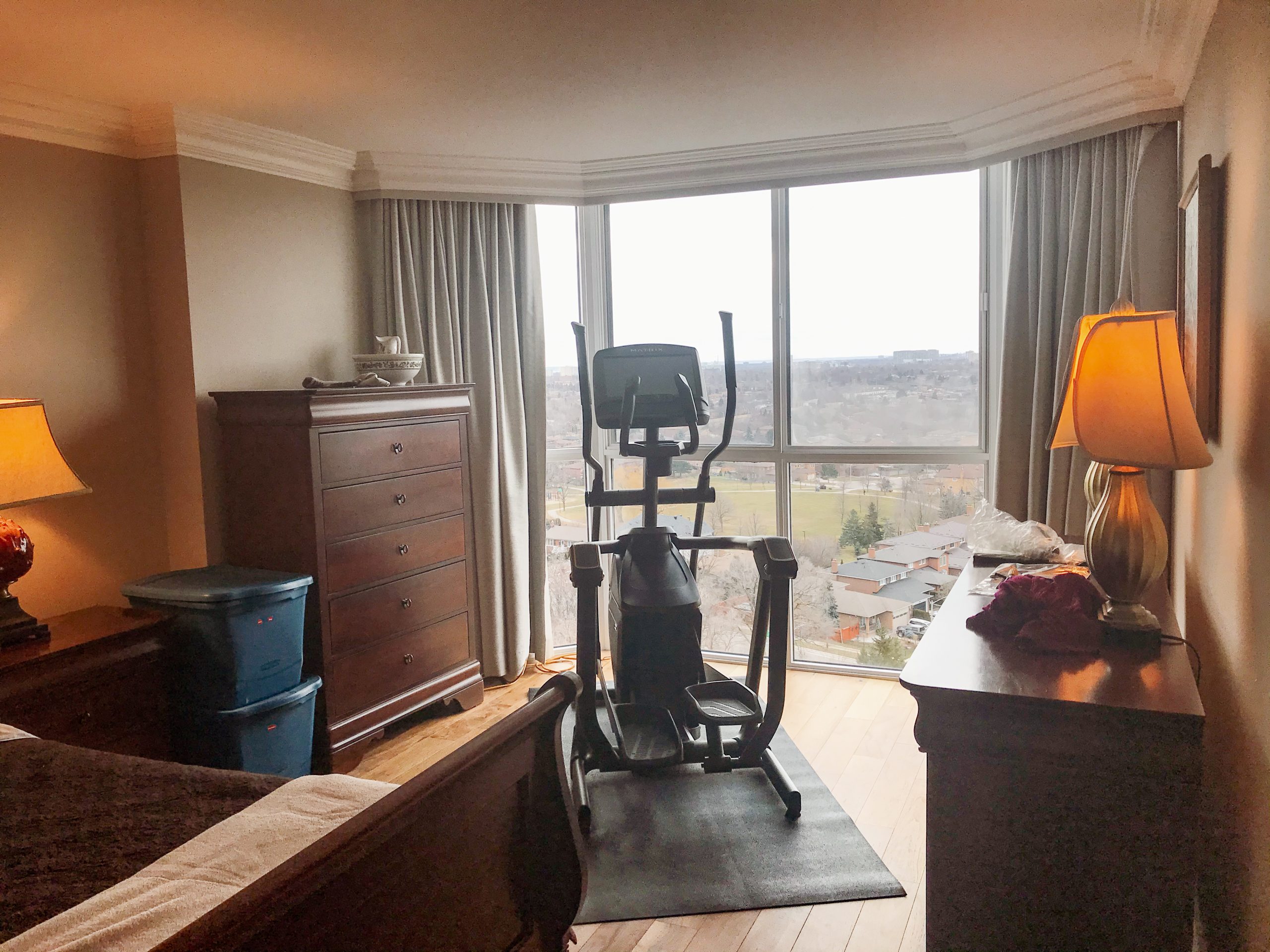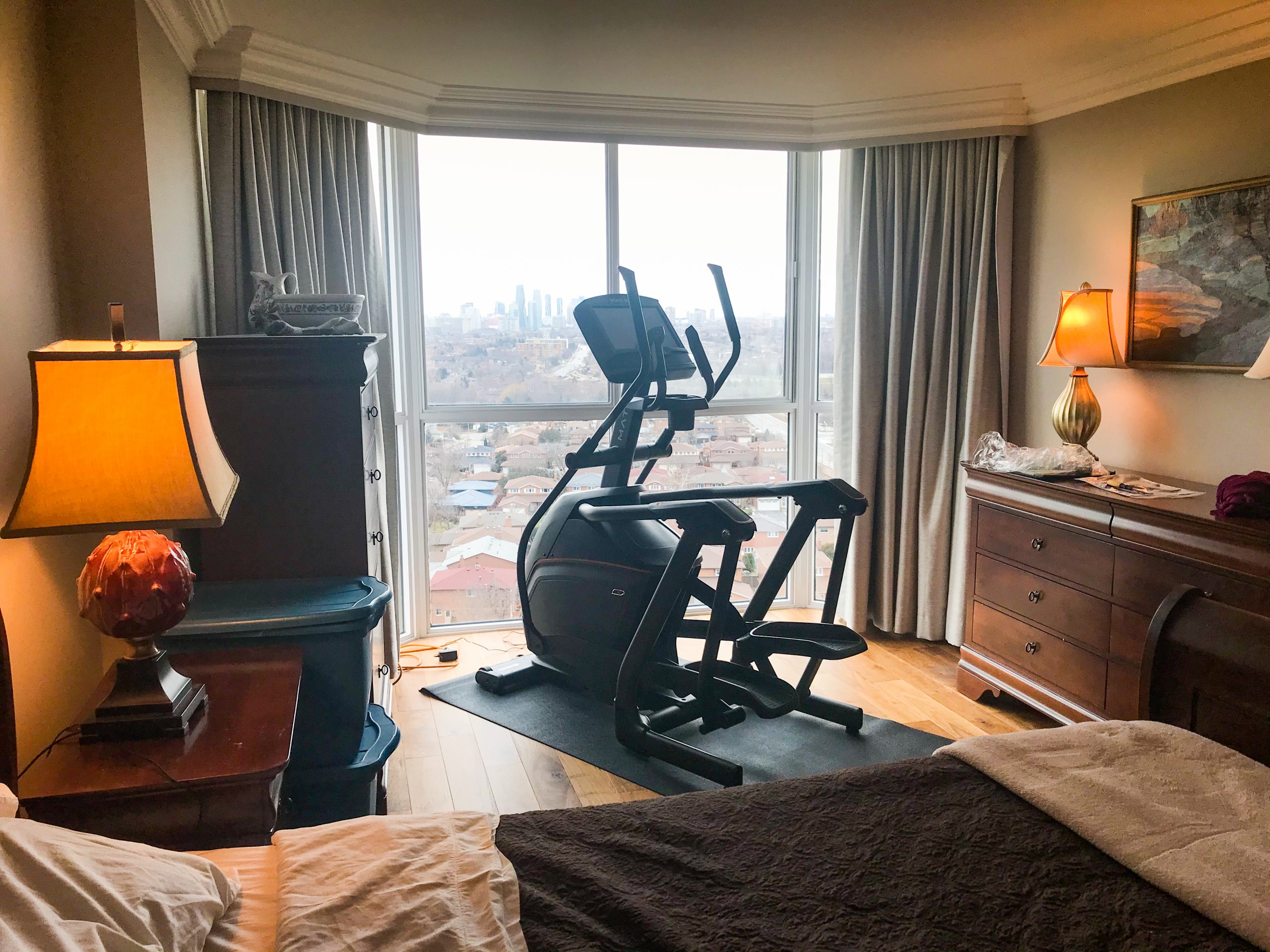 Plan C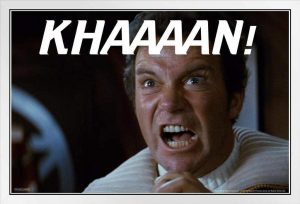 Just as I start getting the hang of using the elliptical (my preference historically has been for a treadmill, and this caused my knees some distress at the beginning), something had to go kerflooey. Why? It's never easy.
I'm having a great day. I get 60 minutes to go have fun, then 10 minutes on the elliptical… lather, rinse, repeat until I hit a personal best for the day. I look down at my wrist, and the Fitbit is black. I tap the screen. Nothing. I tap harder. Nothing. I plug the thing in to charge. Nothing. Tapping it and pressing the reset button. Tapping it by pounding it against the countertop, just in case my fingernail is no longer sufficient pressure. I'm calm, cool, and collected. Just like Captain Kirk dealing with Kahn Noonien Singh.
Hold on, I just did my best day ever, and neither the steps nor the activity minutes count? Are you kidding me? I go through a comedic series of support chats trying to:
Troubleshoot the unit, but it's dead, dead, dead;
Get a discount on a replacement since mine is out of warranty period;
Order the replacement only to have the computer swap shipping methods while the payment is going though to the slowest-possible option;
Get help cancelling the order (since they can't add on expedited shipping on a separate order);
Try to re-order it, only the discount code doesn't work because I've already used it; and
Re-order the Fitbit and a new Aria scale to go with it so they can conspire wirelessly and mock me with their wee screens.
I'd like to claim that I'm a well-adjusted adult, but the evidence does not suggest it. I spent three days calculating my distance per day for the challenge manually, and am ever so happy to have my replacement Fitbit arrive so that I can now be pushed around by a watch.
February 5 is my Victory Day
I feel much better now, and logged the last bit of distance needed to complete the Everest challenge. Two challenges down already.  I'm feeling great about that, and am ready to move on to the next challenge, which will be a longer distance.
So far, this motivational trick is working:
I never fixed the integration between my Fitbit and the MyVirtualChallenge app on purpose. It turns out that if I write a great distance down at the end of the day, I feel great, and if I write a very short distance down, I feel compelled to redeem myself the next day. If the apps updated each other, I wouldn't get the the same emotional boost (or kick in the pants);
I am still enjoying getting the notice about each tree that they plant for each 20% of my goal. You can learn more about Eden Reforestation Projects by following that link. I'm getting a kick out of picturing my personal trees on a small scale, but I am definitely considering a larger reforestation venture at a later date as part of my work at The Pale Blue Dot Foundation; and
While the elliptical isn't racking up much distance each day (my tolerance for that motion is still less than just walking on the ground), it is starting to build strength in my weak joints and core, which is making the walks outside even easier.
2021 is at least trending in a positive direction so far. I'm enjoying the challenges, and wondering when the medal from the first one is going to turn up. Tomorrow, I am going to virtually visit the pyramids of Giza.
While you're waiting for the next after-action report, you can take a look at the imaginary postcard collection from this challenge.
Postcard Collection