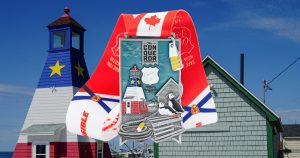 Starting out on a longer challenge
So, the app says, "The Cabot Trail Virtual Challenge will take you 185 miles (298 km) along the natural beauty of the Cape Breton Highlands in Nova Scotia, Canada. Popular trails include the Franey Trail near Ingonish and the Pleasant Bay which is known for its spectacular sunsets."
I've seen a small portion of the Cabot Trail, when I was younger. It's pretty, and I sort of wish I could be seeing those sights in person. Maybe when things open up a bit more…
What the app does not say is that I'm going to have some trouble keeping focused. It is easy to get distracted when you are working your way through just under three hundred kilometres of walks. The Canadian spring weather isn't helping. I get a couple days of lovely weather where I can easily reach 5 km a day after work. Then I get a cold snap where I end up retreating to the elliptical. There's something about how the Fitbit assesses the activity that means that my Fitbit says a half kilometre, and the elliptical says 2 kilometres. So, there I am, tired, sweaty and inching slowly towards my target. When I started doing these challenges, the marketing material said:
Someone that joins a Virtual Challenge below 100 miles has a 92.35% chance of completing it. This stays true across all ages or shapes.

For challenges in the 100-500 miles range the success rate is 83.41% — which is still extraordinary considering it takes months to finish one.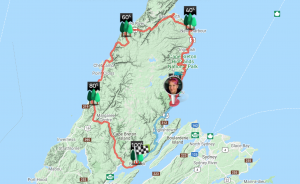 It seems like the good folks over at My Virtual Mission know what they are talking about, because I'm not giving up. I want the new medal. More importantly, I want to get to the next medal.
I have been experimenting with new routes. The creek remains my favourite space. Water is always comforting. I've found a muskrat swimming in the creek, and pair of red tailed hawks nesting. I'd like to get down to the lake more often, but the idea of driving somewhere to take a walk seems somehow… wrong.
I've had some good stretches and have hit a personal best, thanks to taking a bit of a vacation from work. My goal was 5 km a day, and with the extra time, I managed five days in a week at more than 10,000 steps a day. For many people, that wouldn't be much, but it is much better than I have managed in the last five years, where I have become increasingly chained to a desk where I made excuses to work evenings and weekends.
Declaring victory on Monday, May 10, 2021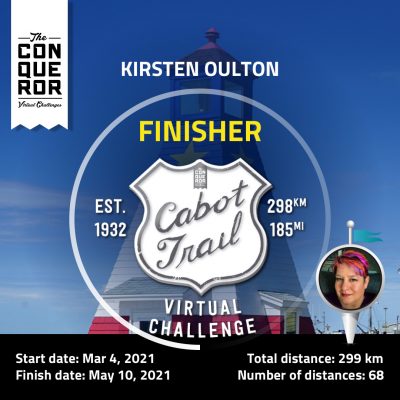 It looks some doing, but I finished all 299 kilometres! The last 30 were the hardest, as it turns out I had a mild reaction to the COVID-19 vaccine that gave me a low grade fever and muscle pain… but I didn't want to slow down, as I've been on a good stretch for the last two weeks.
At this point, I would argue that this experiment is working. The simple act of typing my progress in the app each morning, recounting the previous day's progress, is keeping me honest. I'm not always hitting my target, but after a bad day, I'm more determined than ever to have a good day. I am having MORE good days, and when I can't get out, I'm missing the activity. I have already signed up for the next six challenges. Pretty soon, I'm going to actually need a rack to hang them on!
I have now finished four challenges (Mount Fuji, Mount Everest, Pyramids of Giza, and Cabot Trail), each of which got five trees planted in my name. That's a total of 20 trees so far (not counting my work through the Pale Blue Dot Foundation). If I keep this up long enough, I can imagine my own tiny woods.
I haven't lost so much as an ounce since the day I started, and I have put on a bit of muscle weight. We're not going to talk about how I feel about that today. Just assume it comes with curse words. LOTS of them.
Postcards